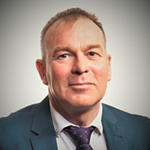 Paul Butcher

Director of Public Health, Calderdale Council
Paul has worked in Public Health for 30 years. He has worked in both 'front' line delivery and managerial positions, primarily focusing in the fields of vascular disease, sexual health and health inequalities. Paul was appointed Director of Public Health at Calderdale MBC in October 13.   Having previously worked in various roles across the North West and Yorkshire and Humber areas.
Paul is currently involved with a number of contemporary policy areas, including active transport, air quality, workplace health and the application of system leadership principles across Calderdale. 
With regard to personal health, Paul has a healthy (some say unhealthy!) passion for cycling and has completed a number of cycling endurance rides including the Paris Brest Paris 1200kms, one of the oldest events in the world.
Follow