Anchor institutions – their role in reducing health inequalities and building back fairer
The COVID-19 global pandemic has brought the issue of health inequality into focus in this country, creating significant health and economic impacts that we will be facing for many months, if not years, to come.  However, these impacts have not been experienced equally, with some groups of people in our society experiencing the worst of these inequalities.  
Many anchor institutions have been central to the immediate response to this pandemic, and it is in their role as anchor institutions that they will also have an essential role in recovery.
 What is an anchor institution?
An anchor institution is one that is not going anywhere. It is tied to a particular place by its core business, physical assets and local relationships. These institutions occupy a wide variety of different sectors spanning public and private, voluntary and community, but their common feature is a strong connection to their local populations. By their very nature, anchor institutions are in a prime position to address the social determinants of health as employers, purchasers, holders of physical assets and community partners.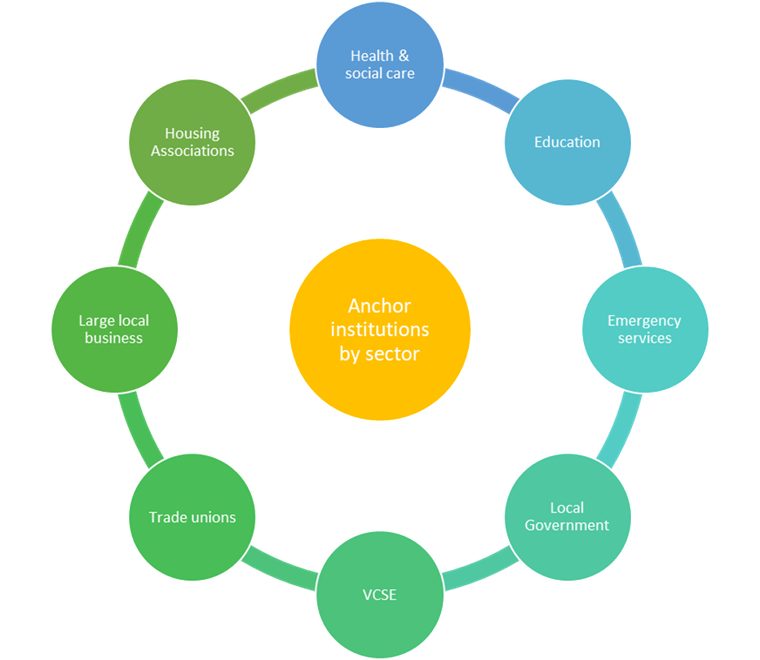 Introducing our work to support anchor institutions in the region
PHE Yorkshire and Humber Health and Wellbeing team want to work with and support local and regional partners to maximise the role of anchor institutions in reducing health inequalities and building back fairer from COVID.
This will include identifying:
the key principles of an anchor institution
the policy context within which these can be implemented
the broad range of what this can mean in practice
The approach taken will be iterative but will include:
Collating examples of good practice and case studies from around the region
Cascading national policy and action around anchor institutions including the recently launched Health Anchors Learning Network
Establishing a learning network to share knowledge, resources, and local examples
Building the evidence base around anchor institutions including evaluation of their impact on health inequalities and population health outcomes
What can you do to get involved?
The key contacts for this work are Ruth Crabtree (ruth.crabtree@phe.gov.uk) and Kristin Bash (kristin.bash@phe.gov.uk).
We are keen to speak to anyone who is involved in working in or with anchor institutions so that we can build a network of interested people to push information out to and connect with.
More information
Across this programme of work, the key elements/dimensions of an anchor institution are considered to be:
Good work
Ethical procurement for local social value
Physical assets
Services for local social value
Partners in Place for social value
Environmental sustainability
Sharing power
The Anchor Institutions work being developed by the Health and Wellbeing Team at PHE Y&H consists of two main workstreams:
Workstream 1: Communication and connection
Workstream 2: Development of key guiding principles for anchor institutions when considering their impact on health inequalities
Use the links below to find out more information on the work:
Share with friends