AMR/HCAI Symposium - 'Sharing ideas and innovation on reducing antimicrobial resistance and gram negative infections' - 18 June 2019
Yorkshire and the Humber HCAI/ AMR Steering Group are pleased to invite you to a learning event on reducing gram negative blood stream infections and optimising antibiotic prescribing across the health system.
This is an opportunity to share and celebrate innovation and evidence-based practice. With this in mind we are inviting abstracts for oral presentation (Downloadable form below).  Abstracts should be returned to westyorksdutypro@phe.gov.uk by no later than 5pm on Wednesday 15th May 2019.  You will be notified whether your abstract has been accepted in the week beginning 20th May 2019.
The afternoon sessions will be dedicated to workshops to allow for more detailed exploration of key issues and challenges.
Places are limited - book early to avoid disappointment. Lunch is provided so please provide any dietary requirements on booking link below:
https://www.eventbrite.co.uk/e/amrhcai-symposium-sharing-ideas-and-innovation-on-reducing-antimicrobial-resistance-and-gram-tickets-60189001925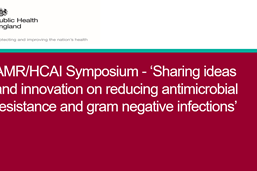 Share with friends