Apprenticeships
Background
The Public Health Practitioner Level 6 (L6 PHP) Apprenticeship is an integrated degree programme approved by the Institute of Apprenticeships and Technical Education. 
Public Health Practitioners can be found throughout the Public System;
In LA Public Health Teams
Commissioned services (Alcohol/Drugs, Smoking, Sexual Health, Weight Management etc)
Voluntary and Third sectors organisations (Social Isolation, Debt Management, Problem Gambling)
The Health and Social Care system
In other key services linked to population health (Health and Care services, Environmental Health, Transport, Planning, Housing, Emergency Services, Employment services etc)
A wide range of employers within Yorkshire and Humber are currently working closely together to ensure this apprenticeship is both financially and educationally viable for region.
Employers interested in joining the steering group can complete this form. 
This apprenticeship is an opportunity for anyone interested in promoting, improving and protecting health to be trained to become a certified and registered public health practitioner. 
The L6 PHP apprenticeship will serve as a;
Means to support career progression for staff as well as encouraging new talent into public/population health roles,
Social mobility vehicle for career development accessible to people from different socio-economic and cultural backgrounds to study for a degree without incurring any debt,
An opportunity to strengthen public/population health within an integrated public health system.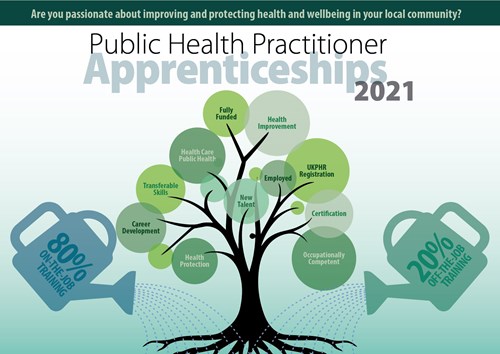 Key Features
 New Talent
The L6 PHP apprenticeship creates a new alternative post-16 career route for people wanting to get into Public Health as a career, ideal for anyone who would prefer a paid work based route into Public Health roles.
Career Development
The L6 PHP apprenticeship makes provision for both new entrants and an opportunity to support internal career progression for administrative/project officer type roles where career progression into other Public Health Practitioner roles may previously have been limited.
Transferable skills
The three-year programme will involve exposure to new knowledge and experiences that will come in handy during and after your training.
Public Health Practitioners
Public Health Practitioners work as part of a national workforce that strives to help people and communities to maximise their potential for a healthy, happy and productive life, and to live healthier for longer. Public Health Practitioners work in all the domains of Public Health:
Health Protection: Protecting people's health (for example from environmental or biological threats, such as outbreaks of infectious diseases, food poisoning or radiation).
Health Care Public Health: Ensuring that our health services are the most effective, most efficient and equally accessible (including access to screening and vaccination programmes).
Health Improvement: Improving people's health (for example by helping people quit smoking or improving their living conditions).
Typical public health job titles;
Accident Prevention Officer
Cardiovascular Disease Prevention Lead
Community Development Worker
Community Engagement Officer
Health and Wellbeing Coordinator
Health Improvement Practitioner
Healthy Lifestyles Coordinator
Immunisation Programme Coordinator
Public Health Intelligence Officer
Public Health Practitioner
Public Health Project Manager
Tobacco Control Lead
Workplace Health Advisor etc
Blended  training
This 3-year programme will be a blend of 80% on-the-job training and 20% off-the-job training. The apprenticeship programme involves a degree programme which adds to the 20% off the job training.
Fully funded
The structured learning degree programme is fully-funded, giving apprentices the opportunity to gain a degree in public health at no cost!
Certification
Upon successful completion of the three-year apprenticeship programme, apprentices will receive a BSc Public Health degree.
Occupationally Competent  
On completion, apprentices are eligible to apply for UKPHR registration. Registration provides assurance, public protection and recognition of achievement.
The University of Sunderland has been selected by the Y&H Public Health Practitioner Apprenticeship - Employer Steering Group as the recommended training provider for the region and their programme starts on September 27 2021.
Next Steps
Prospective apprentices: New entrants should look out for L6 PHP apprenticeship job openings. Existing employees within a public health departments or fields can use this form to discuss their interest with their line manager.
Interested employers: Interested employers within the region can join the employer group by completing this expression of interest form.
Send any queries/ concerns to yhphworkforce@phe.gov.uk
Attachments
Share with friends