Campaigns
NHS England and NHS Improvement vaccine programme communications pack and NHS England and NHS Improvement staff vaccine campaign guide - You can take messages from here to use in your communications. These documents also include useful FAQs, including those commonly asked by BAME communities (this document is too big to attach, please email the address at the bottom to request a copy)
NHS England and NHS Improvement vaccine infographics – You can share these graphics via your social media platforms
A video of why vaccination is important for health and social care colleagues featuring Dr Nikki Kanani and a video from the NHS chief people office, Prerana Issar – You can share these on your social media platforms or play these at virtual events
Example content we have received from colleagues to help us spread positive pro-vaccine messaging – We are looking for more content like this. (More details on that below)
COVID-19 vaccination: what to expect after vaccination - Translated copies are available to download and more languages will be available soon.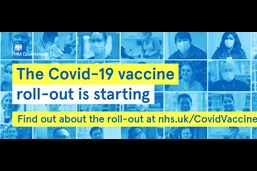 Share with friends