Long Term Conditions/CVD
Data and intelligence
The Fingertips platform hosts a wide range of health intelligence profiles and tools, viewable by local authority and/or NHS footprints https://fingertips.phe.org.uk/. In addition there is data specifically on Cardiovascular disease care activity and prevention available through CVDPREVENT https://www.cvdprevent.nhs.uk/.
Similarly data is also collected by each GP practice on their activity regarding cardiovascular disease within the Quality Outcomes Framework https://qof.digital.nhs.uk/. 
Data is also collected on the NHS Health Check a mandated programme funded by the Office for Health Improvement and Disparities, commissioned by Local Authorities and provided by Primary Care or third-party providers such as Local Authority wellbeing services or VCSE sector organisations. This data can be found in detail following the last deep dive here: https://digital.nhs.uk/data-and-information/data-tools-and-services/data-services/general-practice-data-hub/nhs-health-check-programme
Policy 
Key drivers for the cardiovascular prevention agenda include:
The Long-Term Plan which includes elements to improve the NHS Health Check, increasing primary care testing, increased access to first response and community defibrillators and genetic testing for Familial Hypercholesterolaemia (FH).
Public Health England (as was at the time) also published the Health matters report and recommendations which directed places to monitor and address the ABC risk factors of cardiovascular health. These were Atrial Fibrillation, Blood pressure and Cholesterol.
Recently the NHS have developed a new programme CORE20PLUS5, this directs local places to use a population health model to identify the key target audiences and conditions to address to increase the health of the population. The model breaks down the 'Core', those in the most deprived quintile ('20'%) of the population as measured by the Index of Multiple Deprivation, 'Plus' those groups identified by the care system who are disproportionately affected or face additional barriers to accessing support (such as those from certain ethnic groups). The programme also identifies '5' clinical areas of health inequalities one of which is hypertension case finding (others include maternity, severe mental illness, chronic respiratory disease and early cancer diagnosis).
Stakeholder roles
NHS Health Checks provide a rolling programme of health screenings for anyone between 40 and 74 years of age who are not already receiving other health checks. This programme monitors the 10-year risk likelihood of developing a cardiovascular event, such as a heart attack or stroke. These checks are carried out mostly in primary care and provide a valuable start point to identify those at risk and support them to access the right support early to prevent the risk of deterioration. These programmes run in parallel to other activity which is commissioned and provided by local authority public health teams including smoking cessation, alcohol and drug services and healthy weight and physical activity services.
In addition local NHS services in the region provide a range of cardiovascular disease prevention projects to proactively engage those at risk of developing   problems. These projects often work at a secondary prevention level supporting those who have identified hypertension to reduce their risk and  symptoms using clinical interventions. These programmes can work harmoniously with the primary prevention activities within public health.
OHID and NHS England work across the region to support the development of Systems Thinking and collaborative action to tackle cardiovascular disease and this includes promoting integrating care between public health and NHS services and sharing of good practice and data to inform service development and future commissioning.
Long Covid
 Data and intelligence 
Data on Long Covid can now be found in several places, as the awareness and response to this condition has matured so has the data availability. Initially the main source of data on Long Covid prevalence was the ONS: Prevalence of ongoing symptoms following coronavirus (COVID-19) infection in the UK - Office for National Statistics (ons.gov.uk)
The REACT series of research projects also carried out a report into the prevalence of Long Covid in the REACT-LC study report: https://spiral.imperial.ac.uk/bitstream/10044/1/89844/9/REACT_long_covid_paper_final.pdf
Recently the Local Knowledge and Intelligence Service nationally developed a model looking at the best available data to predict Long Covid incidence for the 12 weeks ahead. This is being used as the most accurate predictor for Long Covid incidence, and drills down from region, ICS and place levels. This model is currently only available for Local Authority Public Health staff who are working on Covid response.                 
However for Yorkshire and Humber a report will soon be completed providing a snapshot of the data which will be available for all services involved in Long Covid work, (as this data is sensitive this cannot be published but can be requested from the OHID region team by those who work in this field).
NHS England also created a dashboard to monitor service data from the 83 assessment centres supporting people with Long Covid. This data demonstrates the numbers of referrals and data on service activity and referrals and can inform service development and commissioning of wider services to support the care pathway locally. This dashboard is sensitive and can only be accessed by those working in the field, who must request access through the NHSE region team.  
There is also work happening at a larger scale to develop a form of Passive monitoring of Long Covid using electronic clinical records for large population cohorts and tracking symptom presentations to understand the prevalence and duration of Long Covid as supported by primary care services. This project is currently early in development but will provide a further data source which can help triangulate population need and help understand effective treatment and recovery from Long Covid.
Stakeholder roles
Local NHS services provide the clinical care for those with Long Covid. Initially patients are reviewed in primary care where differential diagnosis takes place to understand symptom presentation and to check for other potential causes. Patients may then be signposted to Your Covid Recovery an NHS website which provides guided self-care support. Those that require more support are referred into one of 83 local assessment hubs which offer a multi-disciplinary team approach including  rehab, cardiac, respiratory and psychological clinicians who then care plan personalised support. For those that require a treatment service such as rehabilitation these services are also often run by NHS services.
Public health services may also provide specialised support for those with Long Covid which may include physical activity or peer support services. Wider services are also available for those with Long Covid and may be able to offer support after the person has received support from NHS specialists, or for those who do not meet the threshold for care. The regional OHID team have developed a report reviewing evidence for physical activity services for those experiencing Long Covid which will be shared on this website
There is also a place for Voluntary and Community Sector (VCS) services supporting those with Long Covid. For example, Long Covid Support provide a national digital peer support forum which has reached thousands. Wider services such as services which provide support around finances, employment and benefits may also be able to help those with Long Covid. Particularly as evidence from the ONS indicates that many who experience Long Covid are struggling to maintain their work and are using sickness absence. Work is happening locally to try to understand incidence of these issues and the potential to develop a passive surveillance system with key charities and DWP to understand the scale of these challenges.
Finally more research activity is needed to further understand the nature of Long Covid as well as the effectiveness of clinical and non-clinical interventions to support those facing these symptoms. An example locally is the Long Covid research project being run by the University of Leeds which is looking to understand the role that peer support may have for those experiencing Long Covid, and which will tap into a Quality Improvement Collaborative sharing good practice across these services regionally and nationally.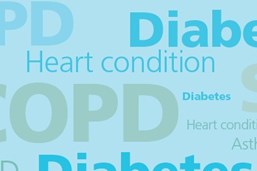 Share with friends