Y&H APDH Conference 2021 - Louise Brewins best poster prize
17 December 2021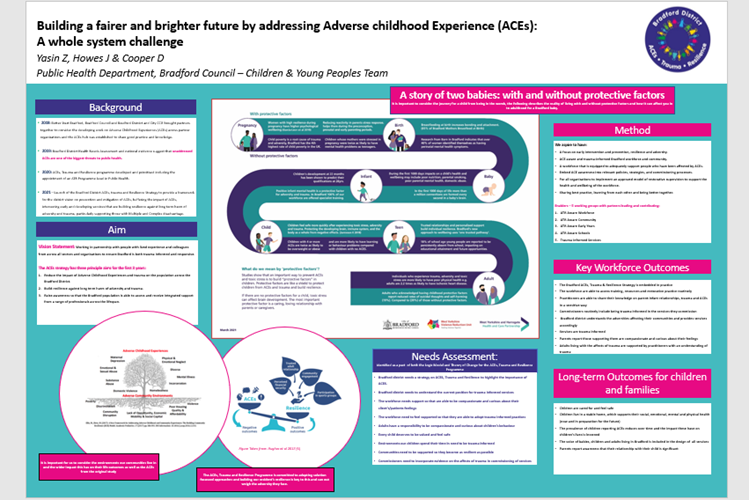 The panel would like to pass on their congratulations to all those that submitted a poster. The standard was very high and so credit to all of you that put the time into producing them, especially in the current context.
The judged winning poster was "Building a fairer and brighter future by addressing adverse childhood experience (ACEs): a whole system challenge" Yasin Z, Howes J & Cooper D Public Health Department, Bradford Council – Children & Young Peoples Team
The award is in honour of Louise Brewins (Sheffield) and the panel felt this poster most embodied the principles behind the conference as well as the link between data, evidence and impact of which she was particularly passionate.
In Greg's words "huge congrats to all those that submitted. I have already nicked quite a few of them and will be using with my team" which was echoed by all panellists!
The panel consisted of: Barbara Coyle (LKIS, OHID), Des Cooper (Hull), Shane Mullen (East Riding of Yorkshire), Louise Wallace (North Yorkshire), Greg Fell (Sheffield) and Tim Fielding (Hull).
You can view the winning poster and all the other fantastic posters here
Share with friends